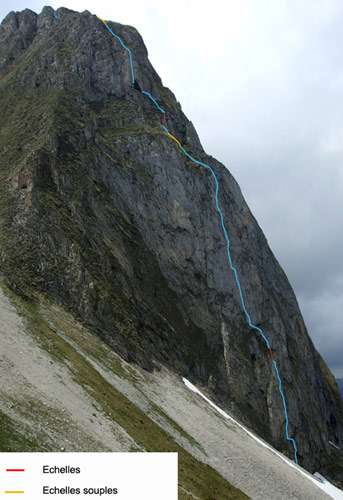 Footbridge
Monkey Bridge
Ladders
Zipline
0
0
2 x soft ladders
1 x standard
0
Features
This via ferrata is equipped with rungs and stakes/nails. Not always very nice.
No escape routes. If you start, you finish!
ViaFerrata Tips and Tricks
It's possible to rent equipment from the Gurnigel hut.
This region is full of hikers. Leave early if you want peace.
Grade
| | |
| --- | --- |
| Strength | 3 |
| Dizziness | 4 |
| Type | High Mountain: 2 |
| Technics | 1 |
| Evaluation | Difficult |
Information
Office du Tourisme du Lac Noir
Length and Altitude
Start:
End: 2'175 m.
Altitude gain: 340 m.
GPS Coordinates
46°43'20.6 N 7°26'44.6 E
Time of Year
From mid-June to end of October (snow)
Horaire
Approach: 45 min
Via Ferrata: 2h
Way back: 45 min
Total: 3h30 - 4h
By Car
It's a bit of a mess to get to this via ferrata but the car seems to be the most reliable option.
Go to the Wasserscheide parking
By Train
Contact the SBB.
Access
Look for the via ferrata via the trail that leads to the Leiterepass. You will get to the base of the cliff and from here you can see the via ferrata scrambling up the wall.
Via Ferrata
This via ferrata goes up rather steeply and you will discover some sections that are fairly demanding for your arms. But it's doable and the void envelops you. From the top you can see the starting point, imagine the presence of the void!
The climb to the top of the Gantrisch ends with several grassy sections.
Way Back
You can go towards the Leiterpass on the alpine (as it is designated) trail.
Where to Spend the Night
Check with the Tourism Office.
par m raegi Youtube
Media